Hi!

I'm first time here.
Sorry for my English.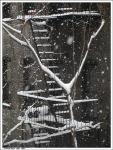 I live now in Jersey City. But before - during 6 years, (after my emigration from Moscow Russia) I lived in New York City. I living in north part of Manhattan - Washington Heights in 6 storey house on a second floor. My windows are going in the "well of yard". I see walls of two (or three) opposite buildings – close. There were sharp, brown; look "like dirty" walls with splits and every time close windows… And of course - New York Fire Escape Balconies – metal, old and with rustle.... After view on the Moscow' Cherkizovo Lake with park - it was (during first months living here) rather disturbing…(in Moscow I live in 14-th storey building near small lake with small park) . Truly there were several big trees here, BUT…

But I'm poet and photographer and I try to talking with myself and trying looking in this yard with different angle…. Now I almost missed that dark deep yard… But…

But I want tell and show you one picture… Just yard with fire escape balconies – brown dark yard, but…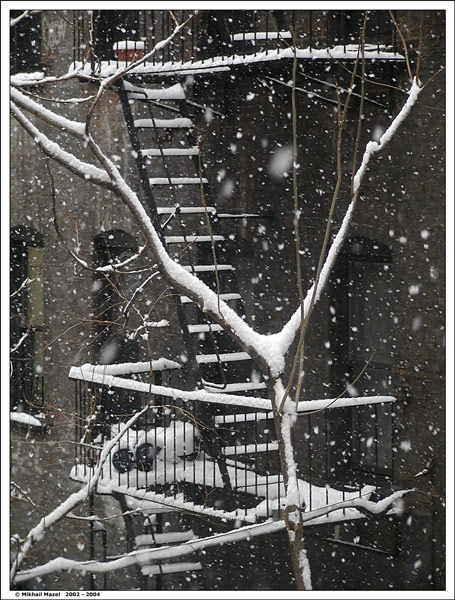 I did this photo for 3 – 4 years…. yes-yes – so long.

Why – because snow in NYC not usual guest. Really I like snow, but after I have problems with my back and use wheelchair – I do not like when after snowfall see at morning a lot of snow on sidewalk for pedestrians :-) I think you can understand me.

Thus… Why 3 – 4 years – only because of, when I came in USA – I use my old Moscow (good, but not very complicated) camera. Film camera. And when I finish film and see result – spring coming soon… After I buy my first digital – there was year without snow… Only in 2002 there was GOOD snowfall – I did several sessions in several days – and last one (250 shots) was successful – going through this 250 shots I find one… This.

And I was not only person who like it – Some Russian (American) magazine see it on my website and ask me - publish it on a cover… After this fact I start feel myself not only poet, but photographer too – not only amateur.

And finally … I had written poem looking on my picture. Below I show you quick translation of this poem. (this is not Poetry translation – unfortunately I can't translate and save music of my Russian poems and poetic stile – I really looking for translators – may be students of language colleges..)


The Poem called "Another snow" – I think you understand why.. But truly – there were no NOSTALGE notes here – not only, not only about Living Russia – this is last point about "Another"…

This is rather sad poem, not usual for my art,
But like most of my art even be sad it have deep optimism inside…

ANOTHER SNOW

Today was snowfall.
It was different that before.
Light twinklings are running
And there are Whiteness around my window.
And all were before this snow look like dream.

Something happened not yesterday could forgotten after tomorrow.
Evening will melt. I'll sing something wrong.
But snow still dropping and drawing prefix NO.

I have remerging another snow.
It wasn't much different.
It wasn't much whiter.
And It never became blizzard.
And me never became brave.
But I remember sequence of snowflakes and seconds
And I remember that I had believe in "YES",
And I remember that knew that it will be not easy.
I remember that I'll knew about "pound of salt" in my future.

Yes. Today I see rare snow.
It looks like loosing round.
But Night is coming. It – close.
It drown whiteness,
But I'm still thinking about...
all night and... close to morning
my soul became calm.